Euro-Sportring introduces: The Euro-Sportring Match Schedule App

Download the app and see your match schedule, actual results, standings and the latest information about your tournament. Download here.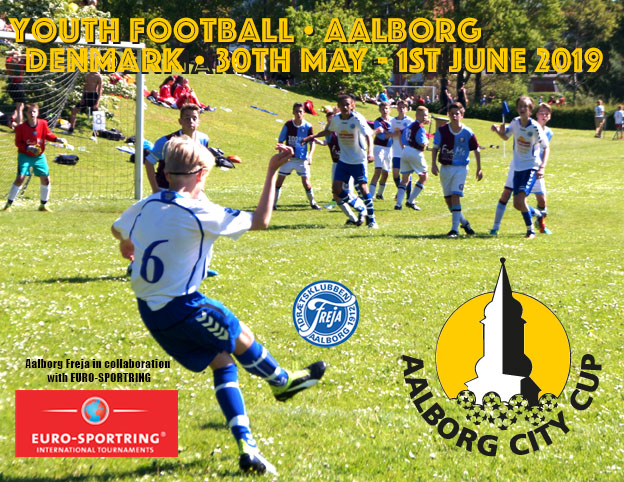 Velkommen:
Aalborg City Cup var en kanonsucces i 2018, hvor vi igen kunne melde "udsolgt" med deltagelse af 4.000 unge fra 11 nationer. Det sportslige og oplevelsen er på det højeste, og deltagerprisen på laveste blus.
Du finder en god stemning i en godt organiseret turnering, der afvikles på Aalborg Freja´s anlæg med 9 stk. 11-mands-, 1 stk. 9-mands, 4 stk. 7-mands- og 2 stk. 5 mandsbaner.
Som noget nyt indviede Aalborg Freja i november 2012 en helt ny og topmoderne kunstgræsbane, som også bruges til at afvikle kampe på.
Der er også tid til disco, foruden at lege turister i Aalborgs forlystelser Aalborg Zoo mm.
Der er pokaler til de 4 bedste hold i hver række, 1 stk. Fair Play pokal i hver række og medaljer til alle.
Welcome:
Aalborg City Cup was a great success in 2018 where we had to report "full house" with participation of 4.000 young boys and girls from 11 nations. The sports and the experience are at its highest and the price for participating is at its lowest.
You will find a good atmosphere in a well organized tournament held at Aalborg Freja's fields with 11 x 11-man fields, 2 x 7-man fields and 2 x 5-man fields and a smaller field in a walking distance of Aalborg Freja with one 11-man field and 2 x 7-man fields.
As something new, Aalborg Freja opened a brand new and top modern artificial grass field in November 2012 and this will be used for matches as well.
There will also be time for disco, and you can play tourist in the amusements of Aalborg in e.g. Aalborg Zoo.
There will be cups for the 4 best teams in every categori, 1 fair play cup for every categori and medals for everybody.
Wilkommen:
Aalborg City Cup war in 2018 einen Riesenerfolg, wo wir wieder "volles Haus" mit Teilnahme von 4.000 Jungen von 11 Nationen ausmelden könnten.
Das sportliche und das Erlebnis liegen auf höchster und der Teilnehmerpreis auf niedrigster Flamme.
Du wirst eine gute Stimmung in einem guten organisierten Tournier, das auf Aalborg Freja's Stadion mit 9 Stck. 11'er, 1 Stck. 9'er, 4 Stck. 7'er und 2 Stck. 5'er Fussballplätze, erleben.
Als was neues, hat Aalborg Freja in 2012 einen ganz neuen und Spitzenklasse Kunstgrasplatz eingeweiht. Dieser Platz wird auch für Spiele in diesem Tournier verwendet.
Es gibt auch Zeit für Disco - und Tourismus in z.B. Aalborg Zoo und andere Vergnügungen.
Es gibt Pokale für die 4 besten Mannschaften in jeder altersklasse, 1 Fair Play Pokal in jeder Alterklasse und Medaillen an alle.